Master of Science in Information Assurance with a major in Cybersecurity
Department Chair, Faculty, & Support Staff
Program Director
Daniel Shoemaker, Ph.D.
Daniel Shoemaker is full time professor at Detroit Mercy, director of the Master of Science in Information Assurance Program with a major in Cybersecurity, and a principal investigator and senior research scientist at Detroit Mercy's Center for Cyber Security & Intelligence Studies. He is a former chair of the Computer & Information Systems Department at Detroit Mercy for more than 25 years. As the co-chair for the National Workforce Training and Education Initiative, he is one of the authors of the DHS Software Assurance Common Body of Knowledge (CBK). He also helped author the DHS IA Essential Body of Knowledge and serves as a subject matter expert for the NIST-NICE workforce framework. Shoemaker also enjoys editing journals, and his publications number are well over one hundred.
Shoemaker holds a Ph.D. from University of Michigan. He leads the Midwest CISSE Chapter. This Coalition covers a five-state region with research partners as far away as the United Kingdom. Shoemaker and the coalition have conducted research on curriculum for the U.S. Department of Defense and are very proud of the work they have completed in Software Assurance and Supply Chain Risk Management.
He also spends his free time authoring some of the leading books in Cyber Security. His book, "Cyber Security: The Essential Body of Knowledge", is Cengage publishing's flagship book in the field. His first book, "Information Assurance for the Enterprise," is McGraw-Hill's primary textbook in Information Assurance and is in use all over the world. The "CSSLP Certification All-in-One Exam Guide," another McGraw-Hill publication came out December of 2013, "Engineering a More Secure Software Organization", which is also published by Cengage came out in April of 2014. He just finished working on two new books for Taylor & Francis, "The Complete Guide to Cybersecurity Risk & Controls" and "Cyber Security", and finally, "A Guide to the National Initiative for Cybersecurity Education (NICE) Framework 2.0."
Teaches
Cyberlaw and Regulation
Supply Chain Risk Management
Information Assurance Auditing
System and Software Assurance
Secure Specification
Telephone: 313-578-0357
Email: shoemadp@udmercy.edu
Faculty
Department Chair
Greg Laidlaw, DMIT, CISSP
Greg Laidlaw is department chair and lecturer in the Department of Cybersecurity & Information Systems. He brings a broad range of experience with 25 years of IT consulting in small enterprise and local government. Starting off in programming and database design, he has since migrated to network infrastructure design, system security and data integration.
His doctoral dissertation involved adapting agile methodologies to design and expediting a data integration project for the Lapeer County Sheriff's Department. He is involved with ISSACA InfraGard and ISC(2) and serves as a Macomb County Reserve Deputy. Current research projects include secure systems, human factors in security and design usability. He joined the University in September 2011. He began serving as department chair in fall 2018.
Teaches
Intro to Computers
Software Project Management
Human Factors in IT Security
Digital Forensics
System Forensics
Information Assurance
Object Orientation Software Design
Telephone: 313-993-3337
Email: laidlags@udmercy.edu
Anne Kohnke, Ph.D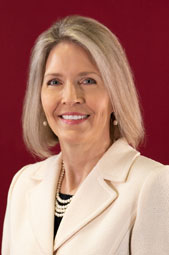 Anne Kohnke, Ph.D. is an Associate Professor of Cybersecurity in the Cybersecurity & Information Systems Department. After a 25-year career in IT, Anne transitioned from a Vice President of IT and Chief Information Security Officer (CISO) position into full-time academia in 2011. Kohnke was a tenured Associate Professor at Lawrence Technological University where she taught technical IT and cybersecurity courses. She served on numerous committees and assisted in the efforts to achieve AACSB accreditation.
Kohnke brings her industry experiences into the classroom and designs experiential learning assignments for students around real-world work scenarios to help build conceptual, analytical, and critical thinking skills. Kohnke's research is focused in the area of cybersecurity, risk management, threat modeling, and mitigating attack vectors. Anne has recently coauthored five books in this field of study with a sixth book due out in print in March 2020.
In 2016, Kohnke was instrumental in the recertification efforts of the Center for Academic Excellence in Cyber Defense (CAE-CD) at Detroit Mercy and plans to lead the certification efforts of the bachelor and master degree programs as well as the leadership role of the CAE-CD.
Kohnke earned her Ph.D. from Benedictine University, an MBA from Lawrence Technological University, and is pursuing a Master of Science in Information Systems and Technology at the University of Michigan Dearborn.
Telephone: 313-993-3338
Email: kohnkean@udmercy.edu
Chris Sorensen
Chris Sorenson is an adjunct faculty instructor at Detroit Mercy and a senior cybersecurity researcher at GE Digital and has more than 15 years in the cybersecurity discipline. He teaches Cybersecurity Principles, Cybersecurity Defense Operations and Ethical Hacking.
Email: sorensch@udmercy.edu
Bradley Wilkerson
Bradley Wilkerson is an adjunct faculty instructor at Detroit Mercy is a principal engineer at WDI specializing in cybersecurity program development and implementation. He teaches Risk Management, Ethical Hacking and Social Engineering.
Email: wilkerbr@udmercy.edu
Support Staff
Sandra H. Wilson, M.L.I.S.
Subject Librarian
Ms. Wilson provides reference service and research skills classes as well as serves as the Interlibrary Loan Coordinator. Her subject areas include: Architecture; Community Development; Cybersecurity & Information Systems; Digital Media Studies; English; Information Assurance; Mathematics; Software Engineering; and Sustainable Communities. Ms. Wilson holds a B.S. from Michigan State University and a M.L.I.S. from Wayne State University.
Telephone: 313-993-1071
E-mail: wilsonsh@udmercy.edu