Master of Arts in Financial Economics
Department Chair, Faculty, & Support Staff
Ablaye Camara, Ph.D.
Assistant Professor of Economics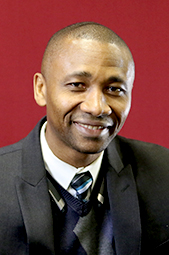 Ablaye Camara, Ph.D. is an assistant professor of economics. He teaches macroeconomics, microeconomics and monetary and fiscal policy. He began his career with the University in 2001 as a tutor. In 2007, he became the STAR program coordinator with University Academic Services. In addition, he serves as the assistant coach for Detroit Mercy's men's soccer team. He earned his Ph.D. from Wayne State University. He began teaching economics at Detroit Mercy in September 2008.
Telephone: 313-993-1098
E-mail: camaraab@udmercy.edu
Yu Peng Lin, Ph.D.
Assistant Professor of Economics
Yu Peng Lin, Ph.D. teaches Microeconomics, Macroeconomics, Financial Economics, Money and Capital Markets, Macroeconomic Policies, and Econometrics. Lin's research and publications have dealt with employee compensation strategies, human resource management, and productivity. He has published three textbooks and many research articles appearing in academic journals such as Industrial Relations and British Journal of Industrial Relations. He is currently doing research in the area of top executive compensation in an international context, the relationship between managerial compensation and firm survival, and information asymmetry. He holds a Bachelor of Arts (International Trade) from Tunghai University, a Master of Science (Finance) from University of Colorado, and a Master of Arts and doctoral degrees (Economics) from the State University of New York at Buffalo. He joined the University in 2011
Telephone: 313-993-1096
E-mail: linyp1@udmercy.edu