Master of Science in Applied Data Analytics
Department Chair, Faculty, & Support Staff
The Master of Science in Applied Data Analytics Program is housed in the Department of Economics within the College of Liberal Arts & Education. This program is interdisciplinary and includes courses from several departments and colleges including Cybersecurity & Information Systems, Computer Science, Economics, Architecture, Business Administration, Mathematics and Health Professions.
Program Contact
Victoria Mantzopoulos, Ph.D.
Associate Dean
Academic Coordinator for International Programs
Telephone: 313-993-3254
E-mail: armstrov@udmercy.edu
Raphael Shen, S.J., Ph.D.
Department Chair
Professor of Economics and department chair, Fr. Raphael Shen, Ph.D. teaches courses in macroeconomics, microeconomic theory/analysis, comparative economic systems, development economics and resource economics. Shen's publications and presentations have dealt mainly with transitional economies in Eastern Europe.
His most recent publication is "The Political Economy of China's Systemic Transformation 1979-Present: Successes, Obstacles, Anomalies" (Palgrave Macmillan), with Victoria Mantzopoulos of the Political Science Department at Detroit Mercy.
Shen is a member of the Midwest Economic Association and the Midwest Political Science Association.
Shen holds a Bachelor of Arts from Berchmans College and master's and doctoral degrees from Michigan State University. He came to Detroit Mercy in 1977.
Telephone: 313-993-1738
E-mail: shenrs@udmercy.edu
Shadi Banitaan, Ph.D.
Shadi Banitaan is currently the director and associate professor at the Mathematics, Computer Science, and Software Engineering department at the University of Detroit Mercy. He teaches classes in Software Engineering and Computer Science. His research interests include software engineering, machine learning and data mining. He is a member of the Institute of Electrical and Electronics Engineers (IEEE) and a member of the IEEE Computer Society. He received a B.S. degree in Computer Science from Yarmouk University, an M.S. degree in Computer and Information Sciences from Yarmouk University, and a Ph.D. degree in Computer Science from North Dakota State University. He taught for five years at the University of Nizwa, Oman. He joined the University in 2013.
Telephone: 313-993-1163
E-mail: banitash@udmercy.edu
Ablaye Camara, Ph.D.
Assistant Professor of Economics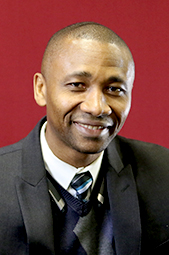 Ablaye Camara, Ph.D. is an assistant professor of economics. He teaches macroeconomics, microeconomics and monetary and fiscal policy. He began his career with the University in 2001 as a tutor. In 2007, he became the STAR program coordinator with University Academic Services. In addition, he serves as the assistant coach for Detroit Mercy's men's soccer team. He earned his Ph.D. from Wayne State University. He began teaching economics at Detroit Mercy in September 2008.
Telephone: 313-993-1098
E-mail: camaraab@udmercy.edu
Greg Laidlaw, DMIT, CISSP
Greg Laidlaw is department chair and lecturer in the Department of Cybersecurity & Information Systems. He brings a broad range of experience with 25 years of IT consulting in small enterprise and local government. Starting off in programming and database design, he has since migrated to network infrastructure design, system security and data integration.
His doctoral dissertation involved adapting agile methodologies to design and expediting a data integration project for the Lapeer County Sheriff's Department. He is involved with ISSACA InfraGard and ISC(2) and serves as a Macomb County Reserve Deputy. Current research projects include secure systems, human factors in security and design usability. He joined the University in September 2011. He began serving as department chair in fall 2018.
Telephone: 313-993-3337
Email: laidlags@udmercy.edu
Douglas MacDonald, Ph.D.
Associate Professor of Psychology
Douglas MacDonald, Ph.D., has been a faculty member at Detroit Mercy since 2000. He is an active scholar who has been pursuing a program of research focused on the measurement of spirituality and the exploration of its relationship to biopsychosocial functioning for the past several years. He is Associate Editor (Research) for the Journal of Transpersonal Psychology, Research Editor for the Journal of Humanistic Psychology and Consulting Editor for the Psychology of Religion and Spirituality, and the Journal of Management, Spirituality, and Religion.
Telephone: 313-993-1094
E-mail: macdonda@udmercy.edu
Yu Peng Lin, Ph.D.
Assistant Professor of Economics
Yu Peng Lin, Ph.D. teaches Microeconomics, Macroeconomics, Financial Economics, Money and Capital Markets, Macroeconomic Policies, and Econometrics. Lin's research and publications have dealt with employee compensation strategies, human resource management, and productivity. He has published three textbooks and many research articles appearing in academic journals such as Industrial Relations and British Journal of Industrial Relations. He is currently doing research in the area of top executive compensation in an international context, the relationship between managerial compensation and firm survival, and information asymmetry. He holds a Bachelor of Arts (International Trade) from Tunghai University, a Master of Science (Finance) from University of Colorado, and a Master of Arts and doctoral degrees (Economics) from the State University of New York at Buffalo. He joined the University in 2011
Telephone: 313-993-1096
E-mail: linyp1@udmercy.edu